Is your happiness on hold?
"So many hairstyles I could have tried but my face was too fat, so many dresses I could have worn but my legs were too big, all the places I could have gone, experiences I could have enjoyed, and life I could have lived. What stopped me? A brownie? A lemon square?" – Food Crazy Mind

Are you food crazy?
Despite what you know about excess weight and weight loss, you just can't get yourself under control. Your behavior constantly surprises, disappoints and mystifies you. Your thoughts are always wandering to the next meal.

Are you a prisoner of unhealthy habits?
Break the connection between thoughts and destructive behavior with easy-to-do techniques in bite-sized steps. Create Healthier, more effective habits with these tips, tricks and hacks.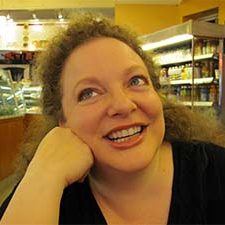 I know how you feel
I'm Davina Chessid, bestselling author and life coach. I can  help you move past the disappointment and hopelessness of dieting to create a healthier, happier relationship with food – no matter how many pounds you've lost or gained in the past.
I know what it's like to suffer from eating issues – for years I struggled with the diminished self-worth and lowered self-esteem that accompany compulsive eating. I can help you learn to like yourself as you are, while you work on changing your thinking and behavior around food. I struggled with out-of-control appetite, mindless eating and diets that didn't work. I found solutions I want to share with you. Read my bestselling book, Food Crazy Mind, and find out how I learned to deal with compulsive eating.
The witty and charmingly honest writing is engaging page after page… Chessid offers insight and answers that can only come from someone who has been there and done that. – Sheri Farley
If you struggle with food, you will relate to her many journal entries and know that you are not alone. If you follow her suggestions, they will work for you, too. – Wendy Higdon
I am a life coach and former serial dieter.
If you're someone who – like me – has spent years struggling with disordered eating, I can give you the tools and support to build your self-esteem and gain the clarity you need to win at weight loss and happiness. I can show you how to stop food from ruining your life.
A fresh approach to a familiar and exasperating subject. – Courtney Kenney
Make peace with food. I can help you:
Stop waiting to be happy
Control your Food Crazy Mind
Create healthier habits
Manage your food without destroying your self-esteem
If you're like most of my clients, you've disappointed yourself time and time again by failing to stick with your diet or food plan. Your quality of life has been diminished by constant struggles with eating, weight and body image.
You want to feel normal again when it comes to food… to be happy now… and to keep food from ruining your life… but you're stuck. You may not even believe there's an answer for you.
Davina relates with humor and loving kindness her struggles with food and weight. She offers a sound method for overcoming mindless eating. – Marjory Harris
Does this sound like you?
You doubt your ability – and sometimes, even your commitment – to change your relationship with food?
You fear you'll never get a handle on your eating or your weight.
You worry that your health and your future are at risk because of your behavior around food.
You wish someone could guide you on the path to healthy eating.
You're not alone. I know what it feels like to wish food wasn't ruinig my life. For years, I struggled with my food crazy mind, placing my love of food above my love of life.. and suffering the consequences.
I finally realized that food wasn't the issue, nor was what I ate or what I weighed. The problem was how I lived. Once I figured that out, I made it my goal to find meaning, balance and joy.
Life can be full and exciting at any size. If we strive to fill our hearts, we can let go of the unhealthy focus on filling our plate.
I coach people who are ready to stop the craziness and find a better path to health and happiness. I'm on the path myself and following it with joy.  You can, too.
You don't have to do this alone.
I'd like to be your personal coach and help you navigat the challenge of creating a healthier, happier life.
You don't have to wait until you reach your ideal weight to be happy. There's meaning and value in the process today.
About the Author
Davina Chessid is a personal development and life coach. Her struggle with out-of-control eating has helped her understand, connect and work effectively with clients facing a similar challenge. When it comes to food, she's found a way to lose the crazy but keep the love. She was voted one of the top ten life coaching in New York (NYWICI) where she gives workshops, coaching clients through the Food Crazy Mind Program and designs journals for Premise Content on Amazon.